GFG series high efficiency boiling dryer
---
GFG series high efficiency boiling dryer
WorkingprincipleTheairwhichisdrawnbyairblowerthroughthebottomafterheatinguppassesthroughnetboardofmaterialhopper.Insidethechamber,theairbecomesstateofflowunderagitatingandnegativepressure.Themoisturei
Working principle
The air which is drawn by air blower through the bottom after heating up passes through net board of material hopper. Inside the chamber, the air becomes state of flow under agitating and negative pressure. The moisture is brought away after rapid evaporated. Then target material gets dried in a short time.
Performance characteristics
◎The structure of fluid bed is round to avoid dead corner.
◎There is glitter in the fluidizing bed to avoid agglomerating of raw material and forming canal of flow.
◎The finished material is discharged by turning over the bottom plate. Automatic feeding and unloading system can be designed as required.
◎Sealed negative pressure, air flow through filtration. Easy to operate and easy to clean.
◎The drying rate is quick and the temperature is well proportioned. The drying time of each batch is usually 20-30 minutes, depending on the material.
Schematic drawing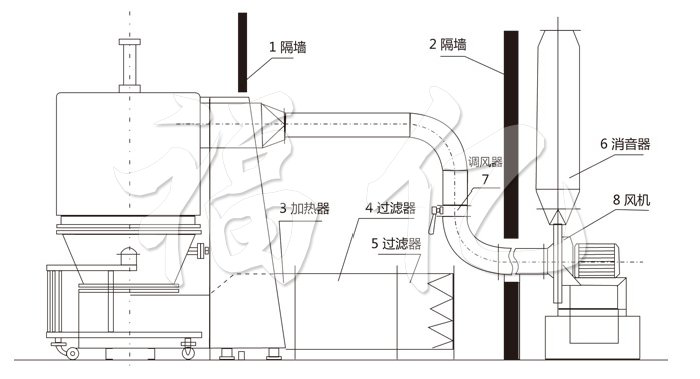 1.partition walls 2. partition walls 3. heater 4.Filter 5.Filter 6.Silencer 7.Air regulator 8.Fan
Project

Model

Feeding(kg)

60

100

120

150

200

300

500

Fan power(kw)

7.5

11

15

18.5

22

30

45

Mixing power(kw)

0.55

1.1

1.1

1.1

1.1

1.5

2.2

Mixing speed (rpm)

8~11

Steam consumption (kg/h)

141

170

170

240

282

366

451

Operating tim (min)

15-30

Host height

2700

2900

2900

2900

2900

3300

3500
Palavras-chave populares
Secador de disco, secador de correia, granulador de rolo seco, granulador de extrusão, secador de ebulição, secador de pulverização, granulador de fertilizante de potássio, granulador de fertilizante, cama fluidizada vibratória, granulador de rolo, secador flash rotativo, equipamento de embalagem, equipamento de prensagem de esferas