Air dryer
ProductoverviewQGseriesairdryerisalargequantityofdryingequipment.Itusestheprincipleofinstantaneousdrying,usingtherapidmovementofhotairtodrivewetmaterial,sothatwetmaterialssuspendedinhotair.Thisstrengt
Product overview
QG series air dryer is a large quantity of drying equipment. It uses the principle of instantaneous drying, using the rapid movement of hot air to drive wet material, so that wet materials suspended in hot air. This strengthens the whole drying process and increases the rate of heat and mass transfer. By air drying of the material, the unbound moisture can be practically removed. (for example: starch material feeding water content less than or equal to about 40%, the finished product discharging for 13.5%), Moreover, the dried material can not produce metamorphism, and the output can be remarkably improved than that of the ordinary drying machine, users can achieve higher economic benefits in the short term.
Application range
The company produces QG air drying equipment, the introduction of the United States advanced technology and equipment, through unique design, has reached the international first-class advanced level. This product has a high degree of automation, low investment, low energy consumption, less manpower and workshop area, wide range of use, and is an ideal modern equipment.
Product features
QG air flow drier is suitable for drying and dehumidification of powder materials in pharmaceutical, chemical, food, building materials, plastics and other industries. For example: fish meal, starch, salt, lees, feed, gluten, plastic resin, powder, coal powder, sugar, A - S - C hydrochloric acid, 2. - 3 - acid, poly chloroacetic acid polyacrylamide and sodium sulfate, sodium metabisulfite and other dry materials.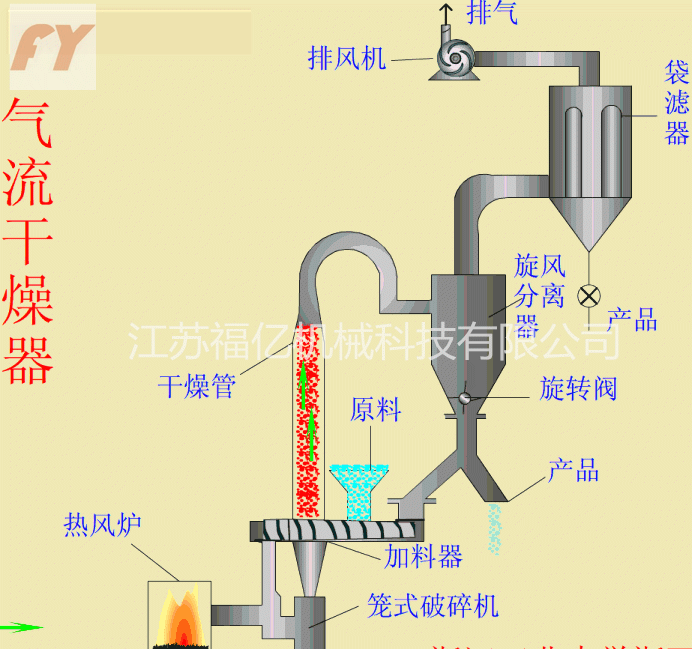 Technical specifications
Specifications / parameters

QG-50

QG-100

QG-250

QG-500

QG-1500

Water evaporation

kg/h

50

100

250

500

1500

Air filter

Area(m2)

4

6

18

36

60

Qty.

1

1

1

2

2

Replacement time (h)

200(filter-bag滤袋)

200(filter-bag)

200(filter-bag)

200(filter-bag)

200(filter-bag)

heater

Area(m2)

30

43

186

365

940

Steam consumption (kg)

120

235

450

972

2430

工作压力Working pressure (Mpa)

0.6-0.8

0.6-0.8

0.6-0.8

0.6-0.8

0.6-0.8

Ventilator

型号Model

9-19-4.5

9-26-4.5

9-19-9

9-19-9

9-26-6.3

Qty.

1

1

1

2

4

功率Power (kw)

7.5

11

18.5

37

125

Feeder

输送量Conveying capacity (kg/h)

150

290

725

1740

4350

control mode

Electromagnetic speed regulating motor

Electromagnetic speed regulating motor

Electromagnetic speed regulating motor

Electromagnetic speed regulating motor

Electromagnetic speed regulating motor

Power (kw)

0.6

1.1

3

3

7.5

cyclone separator

Model

CLK-350-400

CLK-500-450

ZF12.5

ZF12.5

efficiency (%)

98

98

98

98

Qty.

2

2

2

3

Bag filter

Qty.

1

1

1

1

1

water consumption

3.6-20.0
Palavras-chave populares
Secador de disco, secador de correia, granulador de rolo seco, granulador de extrusão, secador de ebulição, secador de pulverização, granulador de fertilizante de potássio, granulador de fertilizante, cama fluidizada vibratória, granulador de rolo, secador flash rotativo, equipamento de embalagem, equipamento de prensagem de esferas